How to Design
step 1

Choose The Item You Want
There are pillows, hoodies, blankets, etc. for your choice.
step 2

Choose The Design
Choose one from your device or Click the Google link to find one!

Arrived Quickly
Make this item a meaningful gift!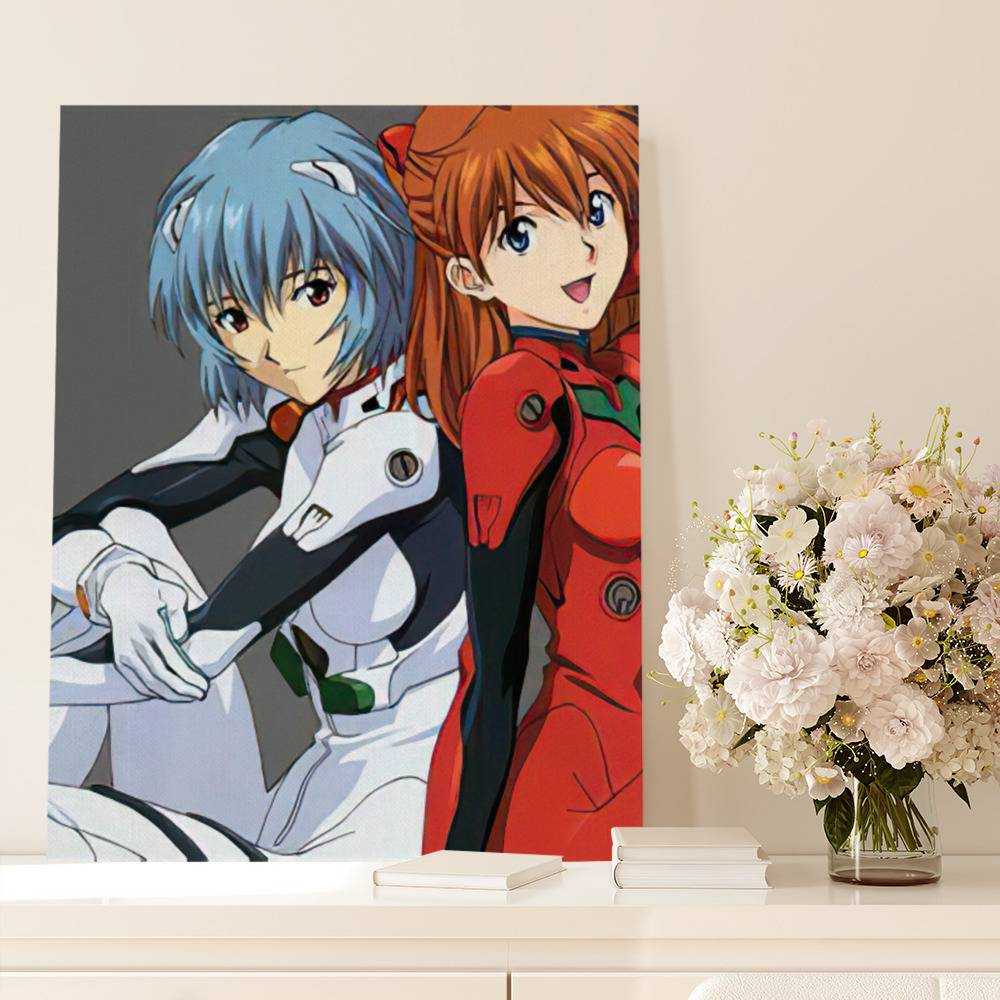 Evangelion Canvas Classic Celebrity Canvas Voiced by Megumi Ogata by Evangelion Canvas
description

Design your everyday with celebrity Canvas you will love to snuggle up with. Match your style with patterns and designs from our professional design team.
Original design.Create a personalized gift with a photo of your favorite celebrity.


* Artist quality ultr-thick cotton canvas, 360 gsm woven.
* Fade-resistant UV archival inks, long-lasting lightfast canvas prints.
* Protective coating, resist to scratching and spillages.
* Wooden frame inside, wrapped with canvas outside.
* One-side printing.
* Non-waterproof.
shipping

Free shipping for orders over $49

You can choose the shipping method during checkout:

Standard shipping: $7.99

Arrives 7-15 business days after the production time

Express Shipping: $29.95

Delivery 4-6 business days after the production time
Free shipping for orders over $49
You can choose the shipping method during checkout:
Standard shipping: $7.99
Arrives 7-15 business days after the production time
Express Shipping: $29.95
Delivery 4-6 business days after the production time
Welcome to Evangelion Merch Shop
Evangelion Merch Shop is for all the Evangelion fans. "Neon Genesis Evangelion" is a Japanese animation work jointly produced by GAINAX and Tatsunoko, referred to as EVA. It sits alongside Uchu Senkan Yamato in the 1970s and Mobile Suit Gundam in the 1980s. It has become the third-generation animation work that has an impact on later animation works, triggering an animation boom.
Evangelion is set fifteen years after a worldwide cataclysm, particularly in the futuristic fortified city of Tokyo-3. The protagonist is Shinji Ikari, a teenage boy who was recruited by his father Gendo to the shadowy organization Nerv to pilot a giant bio-machine mecha named "Evangelion" into combat against beings known as "Angels".
The series explores the experiences and emotions of Evangelion pilots and members of Nerv as they try to prevent Angels from causing more cataclysms. In the process, they are called upon to understand the ultimate causes of events and the motives for human action. The series has been described as a deconstruction of the mecha genre and it features archetypal imagery derived from Shinto cosmology as well as Jewish and Christian mystical traditions, including Midrashic tales and Kabbalah. The psychoanalytic accounts of human behavior put forward by Freud and Jung are also prominently featured.
Shinji Ikari - The Protagonist in Evangelion
Shinji Ikari is the pilot of the first EVA. As a child, he witnessed his mother's death in an experimental accident. After losing his wife, his father placed her in foster care with relatives. An unfortunate childhood experience made him introverted and not confident. A character who desires approval from others, especially fathers. After the cataclysm "Second Shock" that struck the world, the world is rebuilt from the ruins. At the age of 14, he was called by his father, who had not heard from him for 10 years, to No. 3 Shin-Tokyo City. He thought he would be greeted by his father, but he saw a huge creature named "Angels" and the army exchanged fire.
In critical condition, members of NERV rescued him and took him to NERV headquarters. But what greeted Shinji Ikari was his father's grim order: to fight the apostles in what was called an "EVA". Shinji Ikari, who had already expressed his refusal, saw his father order the badly injured driver to forcibly take his place. He decided to follow his father's orders. And just like that, Shinji Ikari, who had never been trained in combat, was ready to go into battle with the first EVA.
Evangelion Collections
In Evangelion Merch Shop, you can see a variety of Evangelion merchandise. We have Evangelion Accessories (postcard, greeting cards...), Evangelion Decoration (You can buy posters, canvas, puzzles, night lamps...), Evangelion Cloth (T-shirts, hats, hoodies...) and Evangelion Home and Living items (blankets, aprons, mugs, fridge magnets...) We believe that you will gain a lot.
Our Recommendation in Evangelion
Evangelion Pillow: Our Evangelion Pillow is soft and comfortable. Holding it in your arms can give you warmth and some protection. Evangelion pillow can decorate your sofa and relax your body. For Evangelion fans, when you are watching TV, chatting, or resting on the sofa, a soft and comfortable Evangelion pillow can give you a particularly warm feeling.
Evangelion T-shirt: Evangelion T-shirt not only has a variety of colors to choose from, the lightness of the fabric also makes the wearer feel comfortable.
Our Mission - Evangelion Promises
Shopping here you can enjoy:
Customer First: We provide private customization services. If you want to print your own design on the product, please do so on the shopping cart page.
Affordable Price: Our price comparison is cheap. You can buy it even if you are a student.
High Quality: Our products are all high quality, you will be surprised when you receive the item.
Fast Shipping: We will make arrangements as quickly as possible so that you can receive your items as quickly as possible.